Method 1. Use your old belt

Using your old belt, measure the distance from the buckle tongue or hook to the most used hole. Record this distance as WAIST MEASUREMENT on the form.
Method 2. Measure the waist

Measure the waist over clothing where the belt will be worn. Record this as WAIST MEASUREMENT on the form. DO NOT USE THE TROUSER OR JEANS WAIST SIZE. For ladies belts, record a high waist and low waist measurement if your jeans and slacks are worn high and low on your hips.
All belt orders:

If I do not have the buckle for your new belt, measure the length of the buckle and record both the BUCKLE LENGTH and BUCKLE WIDTH for the new belt on the form. All belts are made with buckles mounted on the left-hand side when worn, unless right hand mounting is requested or required by buckle design. Buckle sets need to be sent with your order so that tips can be mounted and the belt is made for the number of keepers with the set.


Complete the remainder of the form.
---
** TAKE ACCURATE MEASUREMENTS *** ALL BELT SALES ARE FINAL ***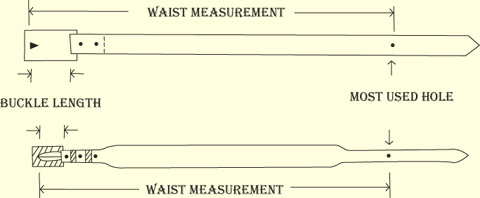 ---
Waist Measurement

Buckle Length

Belt Width

Buckle Width

Pattern

Finish

Other

Name

E-mail Address *REQUIRED

Address

City

State / Province

ZIP / Postal Code

Country

Phone Number




Please enter any comments or special instructions below.


*PLEASE MAKE SURE TO INCLUDE A E-MAIL ADDRESS
***Important Note: NEW PAYMENT OPTIONS

1.Pay Securely on line using PayPal and this email address: sherersaddlesinc@outlook.com

2. Call the studio with your credit card information: 303-841-0751
Email is not a secure way to send credit card information.

3. Dick also accept checks and Postal Money Orders.

Mail to:
Sherer Custom Saddles, Inc.
11626 Mustang Road
Franktown, CO 80116
or
Sherer Custom Saddles, Inc.
P. O. Box 385
Franktown, CO 80116