Field & Binocular Cases


During the time that Dick worked as a research and exploration geologist, he built leather field cases for geologists, scientists and engineers worldwide. Standard and custom cases make it easier to carry your materials and equipment in the field.


Custom leather binocular cases provide protection for high-end optics not afforded by fabric cases. They are designed for rugged use on safari, for hunting and for birding.




Standard field book case


Hammer holsters


Plain military binocular case



Leather pencil cases for mapping


Basket stamped binocular case


Geometric stamped binocular case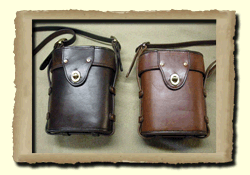 Matching binocular cases



Field book cases from $110
Binocular cases from $300




Pictures of recent custom work can be seen on
Dick's personal Facebook page!