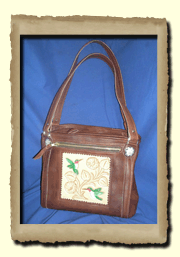 Mahogany cowhide bag with interior calfskin pockets. Hand painted humming birds and hand engraved sterling silver monogram conchos.


Four of five Browning Black Lightning knives with 14K gold letters on hand engraved sterling silver handles. Leather cases have sterling silver crosses and hand engraved sterling snaps.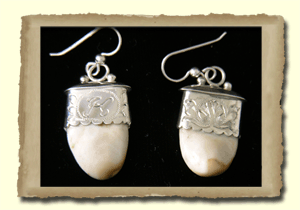 Hand engraved sterling silver elk ivory earrings, a collaboration with Larry Royston
Find out what interesting projects are going on in Dick's studio by visiting his personal Facebook page; Richard L. Sherer.

Also visit his business page at Sherer Custom Saddles, Inc.