Trick Straps and Tack

This is a summary of commonly used trick straps and names that have been applied to them. To avoid confusion when ordering, please look at the pictures and read the descriptions. If you need a longer or shorter strap, they can be custom sized to your specific needs. If you are doing a new unique trick that requires a historic or new strap, contact me with the specifics for a quote. Construction comments are how the straps are built in my studio. This is not universal among all makers.

Hippodrome Straps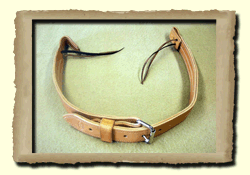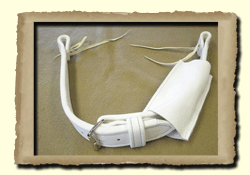 Buckle Hippodrome Straps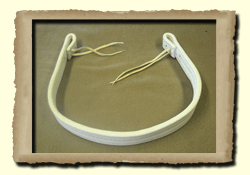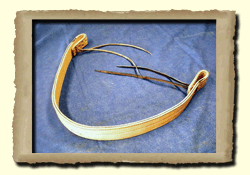 End Adjustment Hippodrome straps

All styles are built with nylon cores, three rows of stitches, buckle sleeve, 2" standard width, other widths and lengths built as special orders. This strap is used for the hippodrome stand buckle in center hippodrome straps, adjusts 35" - 41" one piece, end adjustment hippodrome straps, adjusts 34" - 37 ½"

Tail Drag Straps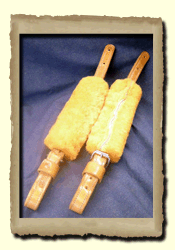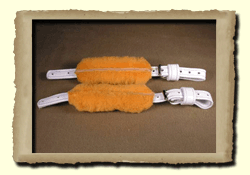 Standard Tail Drag Straps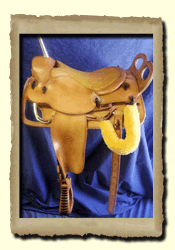 Tommy Maier Tail Drag Straps

Tail drag straps are built with nylon cores and they include woolskin tunnels. 1" wide, they are mounted between the saddle cantle and crupper hand hold. They are used for tricks off the back of the horse. Tommy Maier tail drag straps were developed at the Rieta Ranch and are used by advanced trick riders for very low drags.

STANDARD - Attach to crupper hand hold
TOMMY MAIER - Attach to tree under crupper hand hold,
and front and rear rigging dees.

Death Drag Straps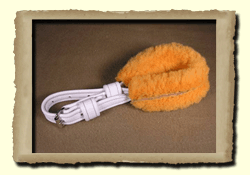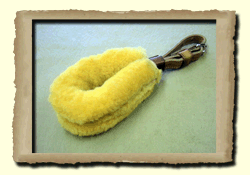 Death drag straps are built with nylon cores and they include a woolskin tunnel, 1" wide, 40" long, this strap has several names and is used for a variety of tricks including tail drag, Cossack drag, stroud layout, death drag and others. Likewise it is called "All of the above strap". Look at the pictures to avoid confusion. It is attached for dee rings on the saddle.

Pick Up Strap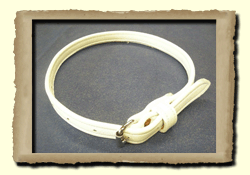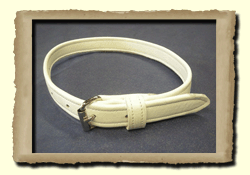 Built with nylon core, ¾" or 1" wide, 43" long. This strap runs through the saddle gullet and is used for under the neck tricks. Some riders also use it for shoulder stands. It has been called a ulder stand strap and suicide strap.

Stroud Strap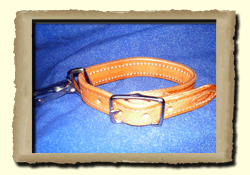 Built with nylon core, 1" wide with snap. This strap goes around the stirrup leather and attaches to the front saddle dee to keep the fender in place during layout tricks.

Headstalls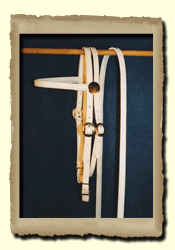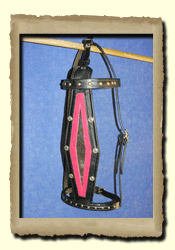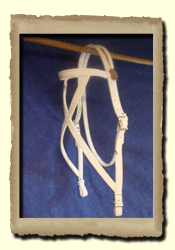 Headstalls are made in standard and custom sizes with simple
or fancy browbands or face plates.

Reins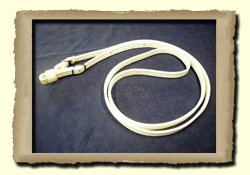 Roper Rein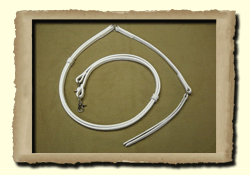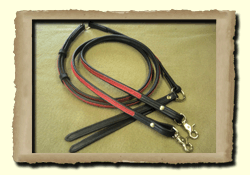 TG Trick Rider Reins

Standard roper reins are made in 5/8 and ¾" widths. TG reins with romal and popper were designed by Tadd Griffith. They are 5/8 wide and can be made in standard or custom lengths.

Breast Collars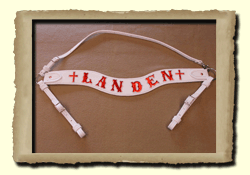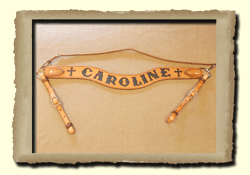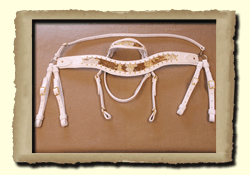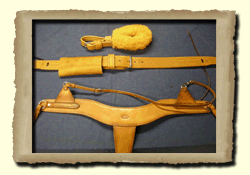 Contoured Breast Collars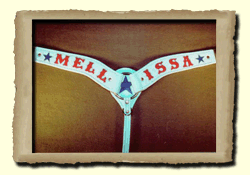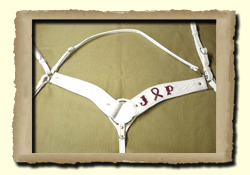 Ring-In-Center Breast Collars.

Both styles of breast collars can be made as simple or as fancy as you like.
They are also made in standard and custom sizes.


Pictures of recent custom work can be seen on
Dick's personal Facebook page!